The TENSION study consortium consists of 15 participating organisations based in eleven different countries. It brings together renowned researchers and clinicians from across Europe, each with a strong scientific and clinical background and outstanding expertise in the field of acute stroke diagnostics and treatment. By this, TENSION will enable to assess benefit of thrombectomy in different European countries with diverse healthcare systems. Thus, expected trial results can broadly be generalized, which will further enhance the harmonization of strategies of interventional stroke treatment throughout Europe. The TENSION consortium will build a network of cooperating stroke centres across Europe which will foster the availability of thrombectomy in all European countries.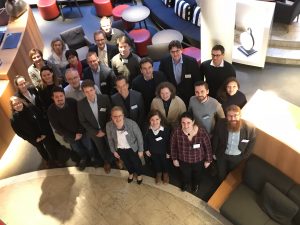 The TENSION study consortium is constituted by scientific, clinical, and industrial European partners which were selected based on their scientific merits concerning clinical stroke trials, on clinical leadership and outstanding expertise of the individual principal investigators in the field, as well as on specific technological and organizational experiences. Each consortium partner has a dedicated role which is essential for achieving the goals of the project, which first and foremost is the successful completion of the European investigator initiated multicenter randomised controlled clinical trial of thrombectomy in severe stroke with extended stroke lesions in an extended time window the transfer of the expected results into clinical practice. The expertise of the consortium will be complemented by external advice from experts in a Scientific Advisory Board, an Ethics Advisory Board, a Data and Safety Monitoring Bard, and an industry roundtable.
Most consortium partners have successfully collaborated in European stroke projects, international stroke trials, or other stroke-related projects networks in the past years. In addition, there are long-standing scientific cooperations between several partners that have yielded numerous publications in high-ranked scientific journals.
The TENSION Consortium consists of the following partners: